Cryptocurrency
Bitcoin Layer-2 Stacks (STX) Resumes Rally With 15% In 24 Hours, Here's Why
Aside from Ankr (ANKR), which has seen its value rise significantly thanks to partnerships with Microsoft and Tencent, Layer 2 Bitcoin stacks are currently the hottest topic in the altcoin market. STX is up a whopping 132% in the last seven days, and in the last 24 hours alone, the price is up 15%.
The buzz around STX was driven by bitcoin-NFT "sequence numbers" which caused a lot of controversy in the bitcoin community. However, Stacks is different in that it is a layer 2 project for the Bitcoin blockchain enabling the use of NFTs, smart contracts, and dApps.
"Anything you can build on Ethereum, Solana, you can build on Stacks L2." — Munib Ali, co-founder of Stacks. said recently.
Since its inception in 2017, the project has been one of the best Bitcoin L2 projects on the crypto market, although the term is not really accurate. Technically, stacks work a little differently than Ethereum sidechains or rollups, which is why developers sometimes use the term level 1.5.
The next planned version, called the Nakamoto version, will no longer have a separate security budget from Bitcoin. Instead, 100% of Bitcoin's hash power will determine the completion of the stack layer. This means that in order to reorganize the Stacks blocks, the attackers will have to reorganize the L1 bitcoin itself.
upcoming @Stacks An update this year will make it L2 bitcoin with 100% BTC hash power, ensuring finality.

The Bitcoin economy is growing in layers.

— muneeb.btc (@muneeb) February 19, 2023
This is why Stacks is seeing huge hype
In addition to the buzz surrounding the Bitcoin NFT "Ordinals" project, increased developer activity on Stacks is likely responsible for the STX price rise in the first place. According to Stacks, there are currently about 35,000 smart contracts running on the Bitcoin Layer-2 network.
In addition, according to the team, more than 150 different projects are now developing applications on stacks. DeFi is especially promising in this regard.
According to co-founder Munib Ali, the goal is to "unlock $500 billion of BTC capital" by enabling sBTC for Bitcoin-based DeFi. "sBTC can do for Bitcoin DeFi what the Ordinals did for Bitcoin NFT," believes Ali, who also recently stated that $250 million is already included in the staking contract and 2,200 BTC has been paid out as a reward.
1/ Stacks is an open source project started by a group of Bitcoin developers. The developers behind it are highly experienced in building applications and protocols on Bitcoin L1.

In 2017, after the block size wars, it became quite clear that the only way to scale transactions or new usage… https://t.co/VyxHG7eNSP

— muneeb.btc (@muneeb) February 20, 2023
However, as with Bitcoin NFTs, this may just be the start for Bitcoin DeFi. The advantage of stacks over Ethereum and other blockchains is that smart contracts can be developed for free.
number daily active wallets on the network is also promising. They are up 67.4% from last year, according to Messari. However, with an average of just under 1,000 active wallets per day, Stacks is still in its infancy compared to Ethereum's second layer networks. Ethereum's Arbitrum, for example, has just under 30,000 active wallets per day.
As for NFTs, L2 also already boasts an active creator community. There were 650,000 NFT bitcoins minted on the stacks. All of these NFTs are automatically hashed to L1 bitcoin and backed by bitcoin in a scalable way – unlike ordinals.
The token (STX) is valuable as it is used as an incentive for miners and an incentive for signers for sBTC to keep decentralized mining and signing rather than using federation.
CTX Price
At press time, the STX was trading at $0.7880. Despite significant gains over the past two weeks, the weekly chart shows that Stacks is still far from its all-time high of $3.39 set on December 1, 2021.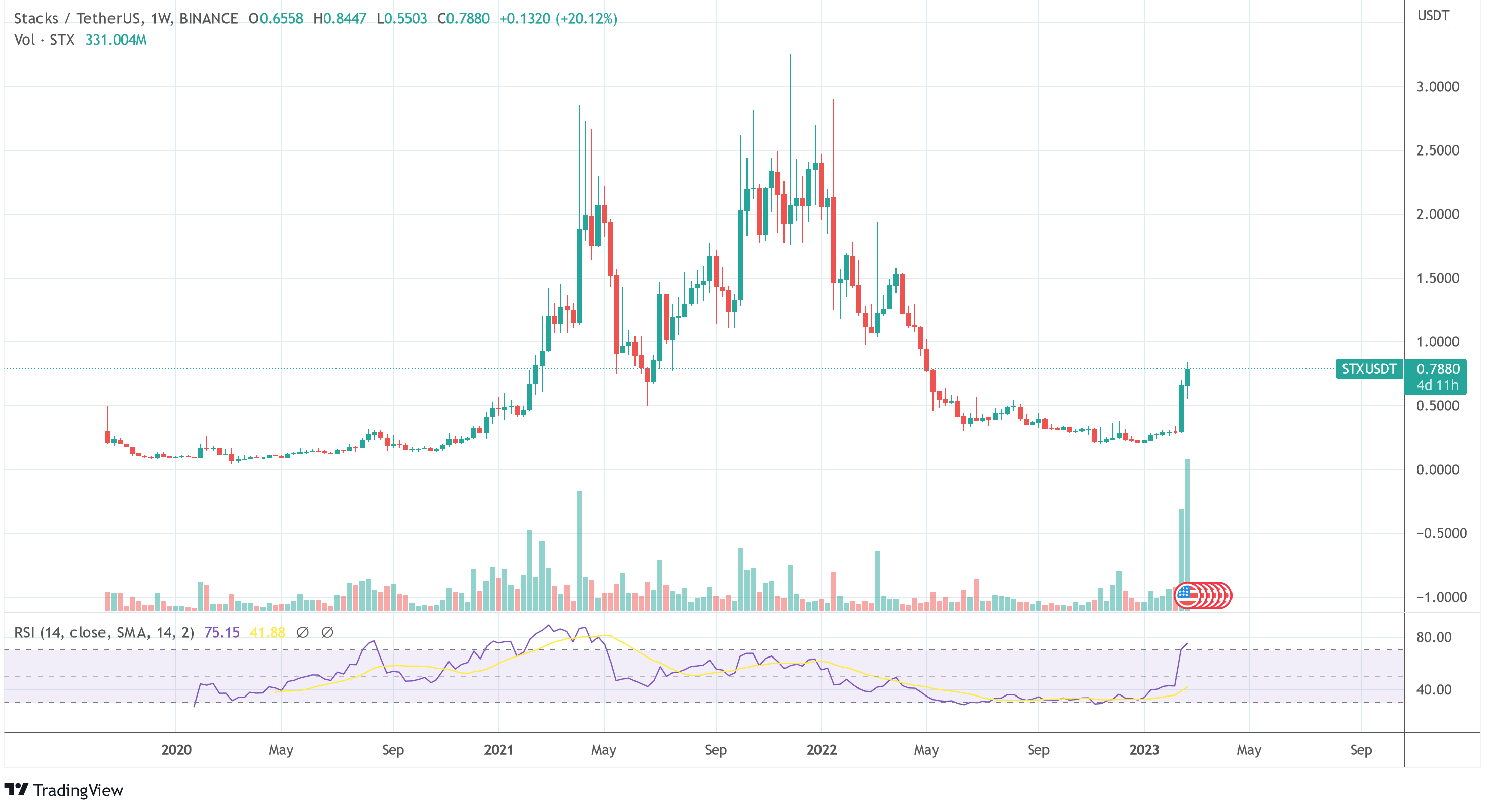 Featured image from iStock, chart from TradingView.com




Credit : www.newsbtc.com