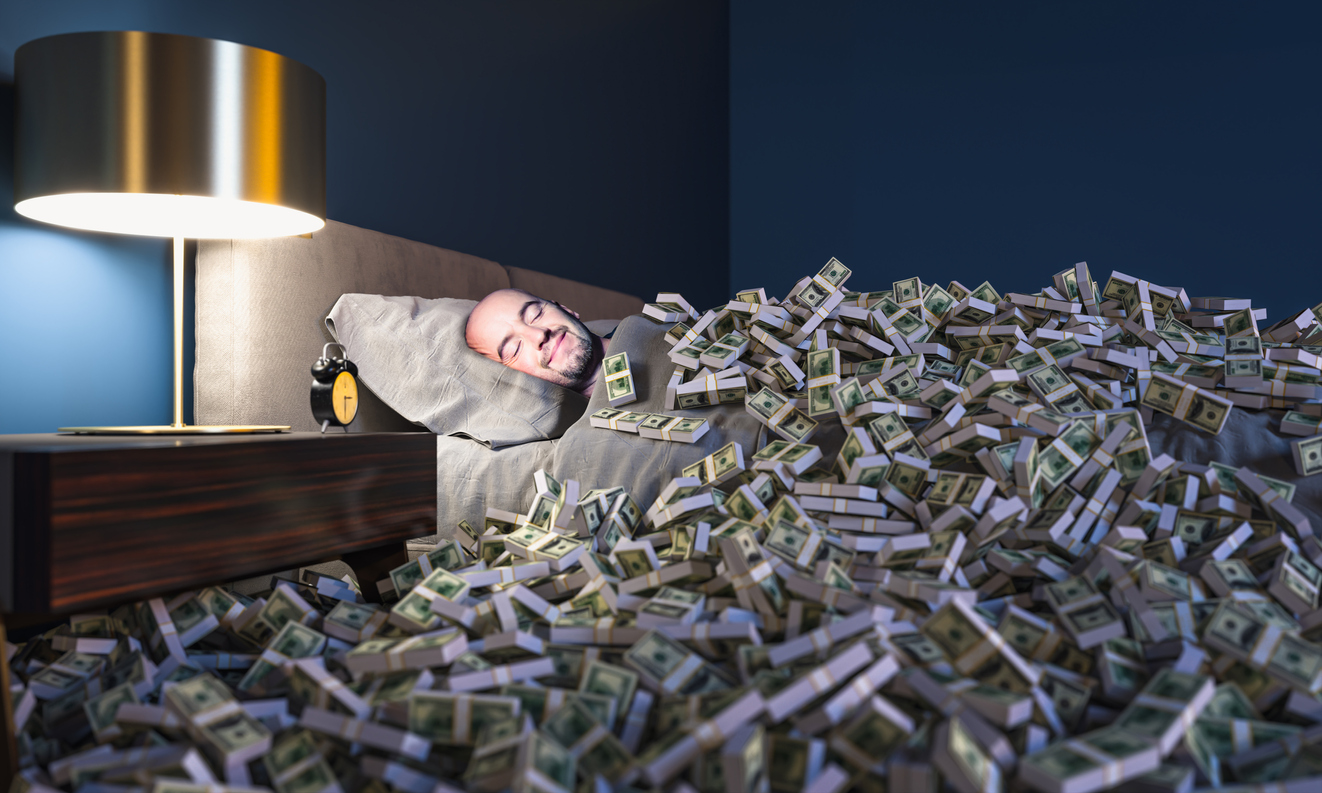 Bitcoin bulls are back for good. The price of BTC is up about 11% in the last 24 hours. At one point, Bitcoin hit $24,789 and took a breather shortly before the August 15, 2022 high of $25,195.
The rally likely took some of the bears by surprise. After the headline consumer price index was 6.4% higher than expected (6.2%) on Tuesday, but still lower than the previous month on an annualized basis (6.5%), market disappointment was initially high; however, BTC saw an initial upward push as early as Tuesday.
Then, on Wednesday, US retail sales data for January 2023 was released. They rose 3.0% in January, an impressive rebound from December's -1.1% and well above the consensus of 2.0%.
Subsequently, Bitcoin experienced a surprising separation from the rest of the financial market. While bitcoin began its massive rally, the S&P 500 remained largely flat. The dollar index (DXY) even rose in parallel with bitcoin, an event that has been extremely rare in recent months due to the inverse correlation.
Bitcoin is also challenging financial market fears that the recent CPI and US retail sales will give the data-driven Federal Reserve more of a case for higher and longer rate hikes. In addition, there are fears of a recession.
So what caused the Bitcoin price to rise?
Cryptoanalytics service Santiment has reported a spike in bitcoin holdings of owners holding between 100 and 1,000 BTC. However, while this group of investors have hoarded bitcoin, sharks (between 1,000 and 10,000 BTC) and whales (over 10,000 BTC) have shown no signs of serious buying behavior.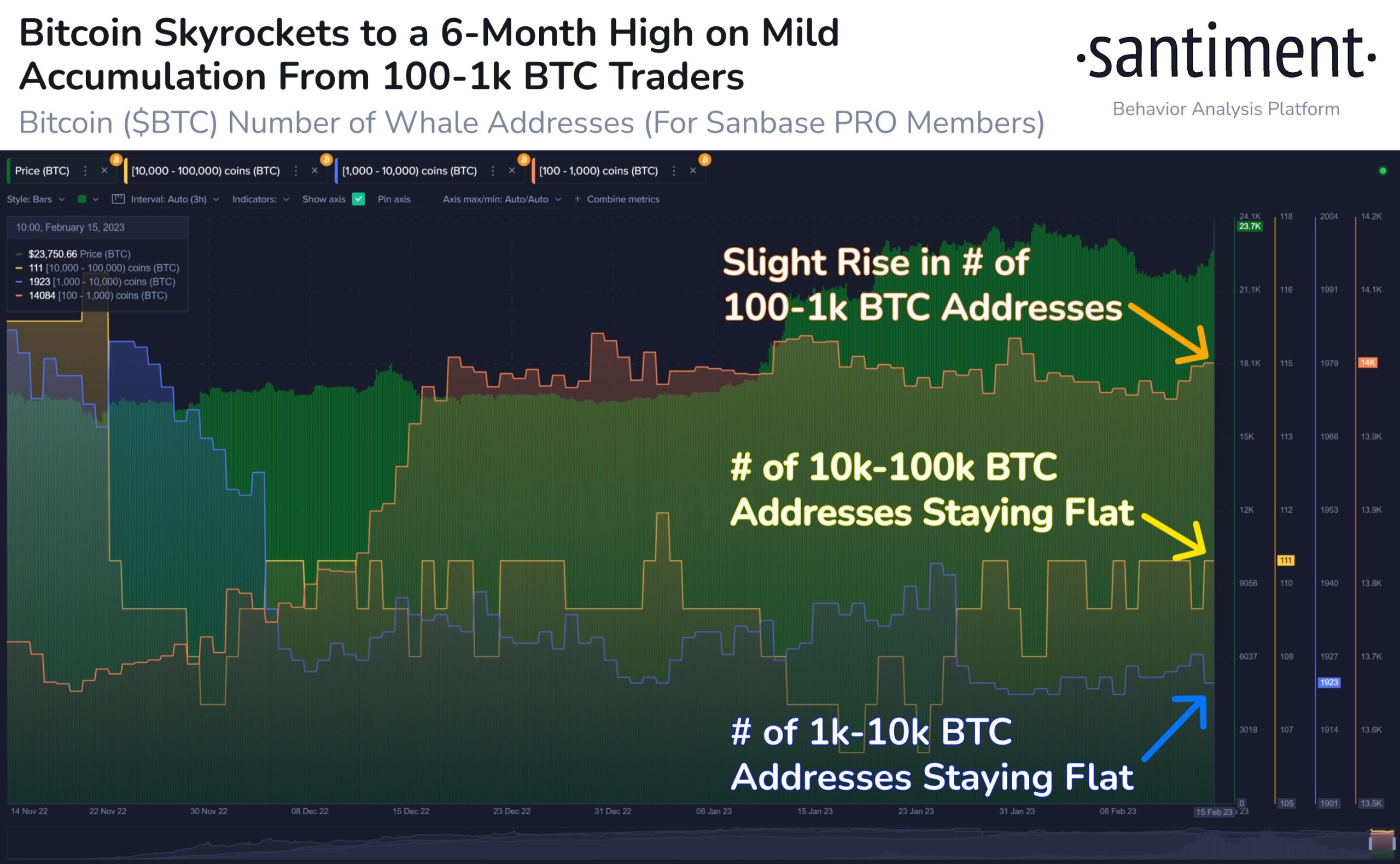 Data provider Lookonchain says they have found that since February 10, several funds and institutions have invested about $1.6 billion in the cryptocurrency market. To do this, Lookonchain analyzed USDC deposits and withdrawals data on Circle from February 10 to today.
The result is that several funds and institutions have withdrawn about $1.6 billion from Circle and put in only $0.2 billion. One mystery fund has withdrawn $155 million and $397 million from Circle and moved it to exchanges since Feb. 10.
Another unknown fund reportedly pulled $953.6 million out of Circle and transferred it to exchanges. A FalconX-linked fund also pulled US$143 million out of Circle.
1/ Why the price $BTS/$ETH suddenly rises today?

We found that since February 10, several funds/institutions have invested almost $1.6 billion in the cryptocurrency market! pic.twitter.com/WRaSv4YtgP

— lookonchain (@lookonchain) February 16, 2023
Other factors that may play a role
News that Binance working with US regulators to settle past misconduct with a fine reportedly between $1 billion and $2 billion.
A rather vague rumor is that Russian investors may have broken into bitcoin and cryptocurrencies. The rationale for this is that prior to the announcement of new sanctions against the two largest Russian banks that were previously allowed to use SWIFT and play the largest role in P2P on Binance, namely Tinkoff and Rosbank, Russian investors rushed into what was almost their last chance. buy bitcoin.
Meanwhile, CryptoQuant analysis shows that yesterday's price movement was the result of aggression in the futures market. As long as traders were going short, the open interest increased and the price moved against the short positions. This led to an upward impulse candle.
According to Coinglass datatotal liquidation of short bitcoin positions yesterday was $155.3 million.
At press time, Bitcoin price is at $24.612, facing the next major resistance at $25.195.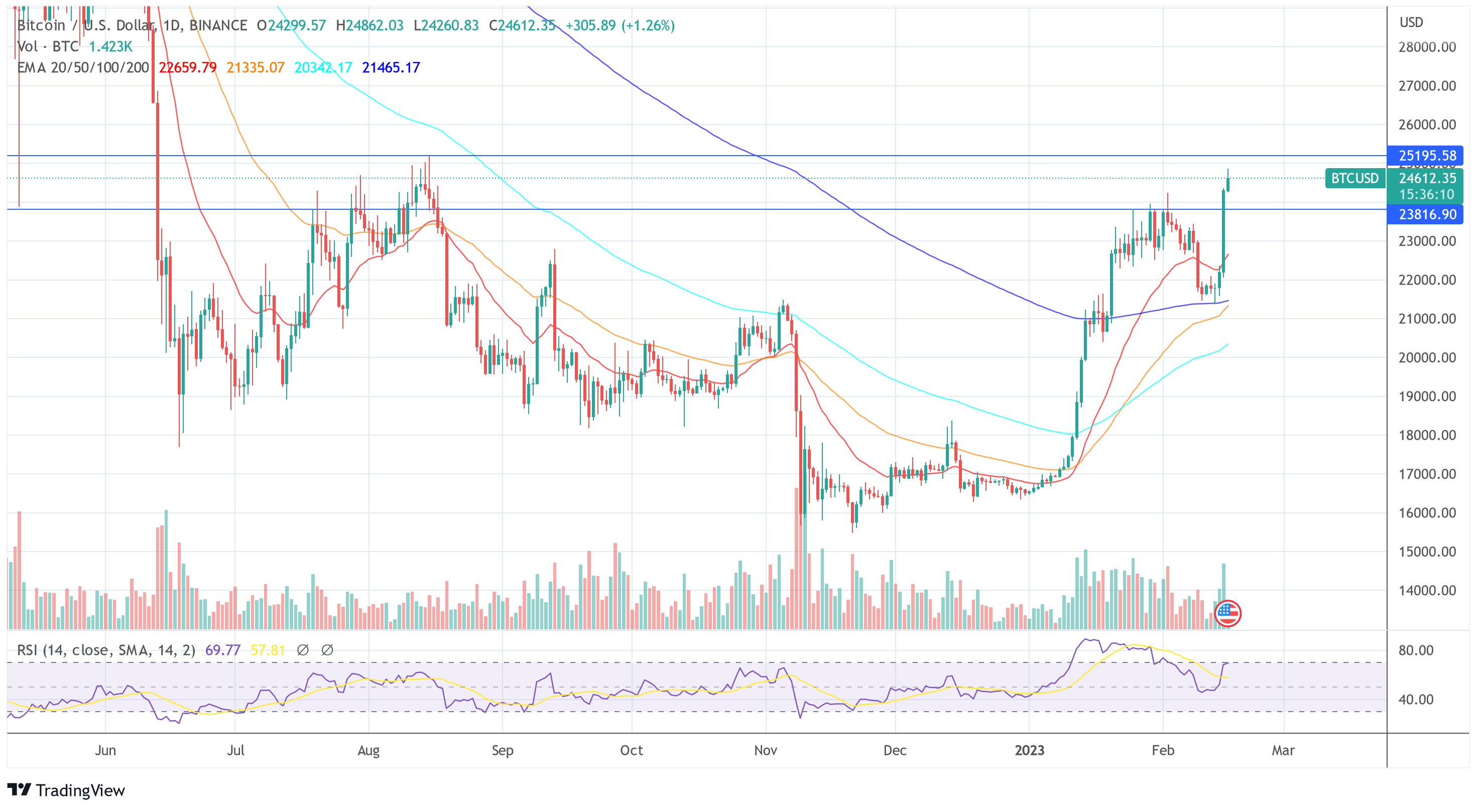 Featured image from iStock, chart from TradingView.com




Credit : www.newsbtc.com