Cryptocurrency
Dogecoin Whales Buy 1.06 Billion DOGE, Price Ready For Breakout?
According to various analyses, Dogecoin (DOGE) is currently seeing increased demand from large investors, also known as whales, who are accumulating the meme coin. The trend emerged after the cryptocurrency market went bullish and Elon Musk wore a Dogecoin fan t-shirt to the Super Bowl.
Analyst Ali Martinez tweeted that Dogecoin is poised for a breakout after DOGE whales bought over 1.06 billion DOGE in the last 48 hours, worth about $94.34 million. The data comes from the data provider Santiment.
The chart below shows that the holdings of all whales – all holders from 100 million to 1 billion DOGE – rose from 26.27 billion to 27.33 billion DOGE in the last 24 hours, showing a strong upward trend.
Overall, the chart also shows that DOGE is back on the whale shopping list since the start of the year. At the end of December 2022, the total whale stock was still below 24.5 billion DOGE.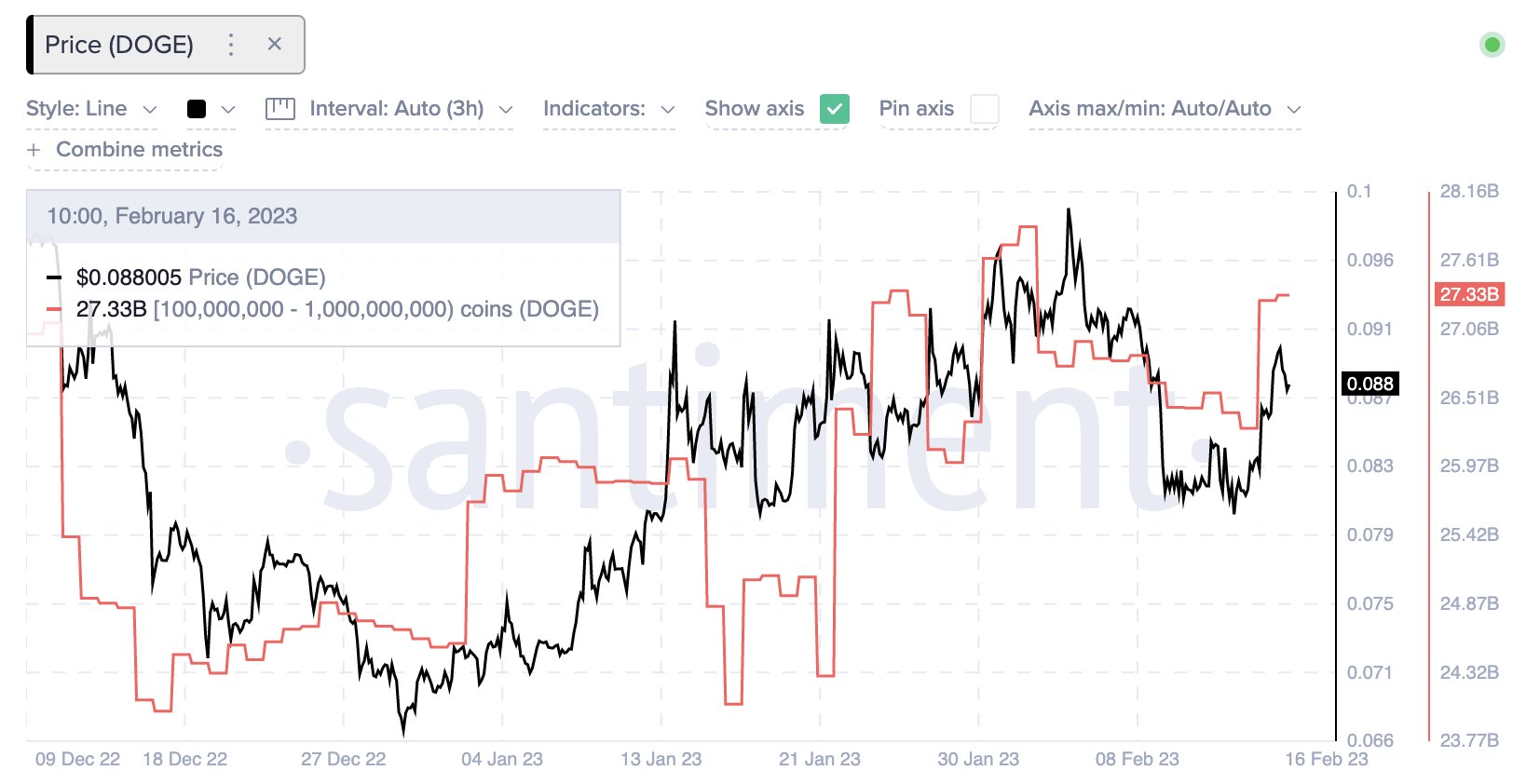 As the analyst notes, social sentiment around Dogecoin is also as positive as it has been since October 2022, when DOGE surged 160%, Santiment data shows. Over the past few days, both social media volume and measured sentiment have skyrocketed.
One whale of Dogecoin attracts attention
Blockchain monitoring service Lookonchain, meanwhile, marked that whale Dogecoin recently amassed 450 million DOGE worth $39.41 million in two transactions, climbing to 20th place on the list of largest DOGE holders. The DOGE purchase appears to have been made on Crypto.com as the assets were sent from the Crypto.com wallet.
The first of two transactions took place back on Wednesday, when whale DOGE bought 200 million DOGE worth $19.92 million at a price of $0.085. The second transaction took place yesterday, Thursday, when the DOGE whale received 250 million DOGE worth $22.25 million at a price of $0.089 from a wallet linked to Singapore-based exchange Crypto.com.
After the last transaction, the address's account balance increased to 709.28 million DOGE, which is $62.7 million. This makes the address the 20th largest holder of Dogecoin at the time of publication. The anonymous whale now owns 0.5132% of all Dogecoins.
However, as Lookonchain reports, other Dogecoin whales could potentially use current prices to sell part of their stack. The monitoring service writes today:
The wallet, which has been inactive for almost 2 years, transferred 326.4M DOGE ($28M) to a new address ~30 minutes ago. Will something happen to Dogecoin?
At press time, DOGE was trading at $0.0865 and is now back in the $0.0928 to $0.0793 range. A break out of this range will be critical to create bullish momentum and reach a December 5 high at $0.1118.
Featured image by Kanchanara / Unsplash, chart by TradingView.com




Credit : www.newsbtc.com