Blockchain
How to swap ETH to BNB? Ethereum – Binance Crypto Bridge | stealthx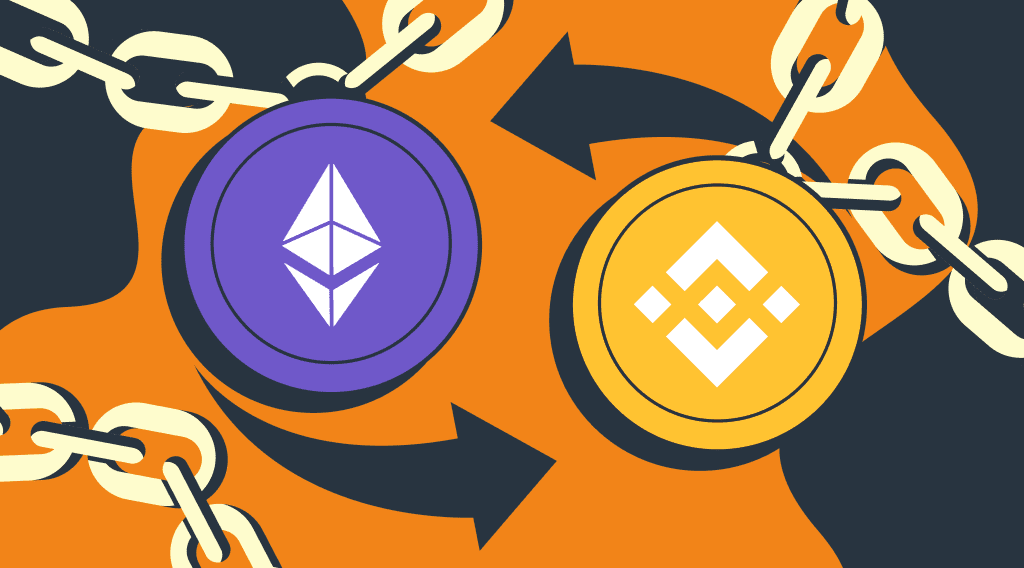 We continue our series of articles on cross-chain bridges. Cross-chain swaps are exceptionally convenient, as it can be quite a hassle to process exchanges between different blockchains. Not all wallets or crypto services support cross-chain, and crypto enthusiasts have to opt for larger exchanges, such as Binance, Gemany, Coinbase, etc. This can often be inconvenient as they require lengthy registration, KYC, etc. Stealthex offers one to its customers. Option to smoothly and quickly convert tokens created on different blockchains, without having to sign up for the service. Cross-chain swaps are one of the major advantages of the platform. Read more on how to swap ETH for BNB in ​​the new StealthEX article.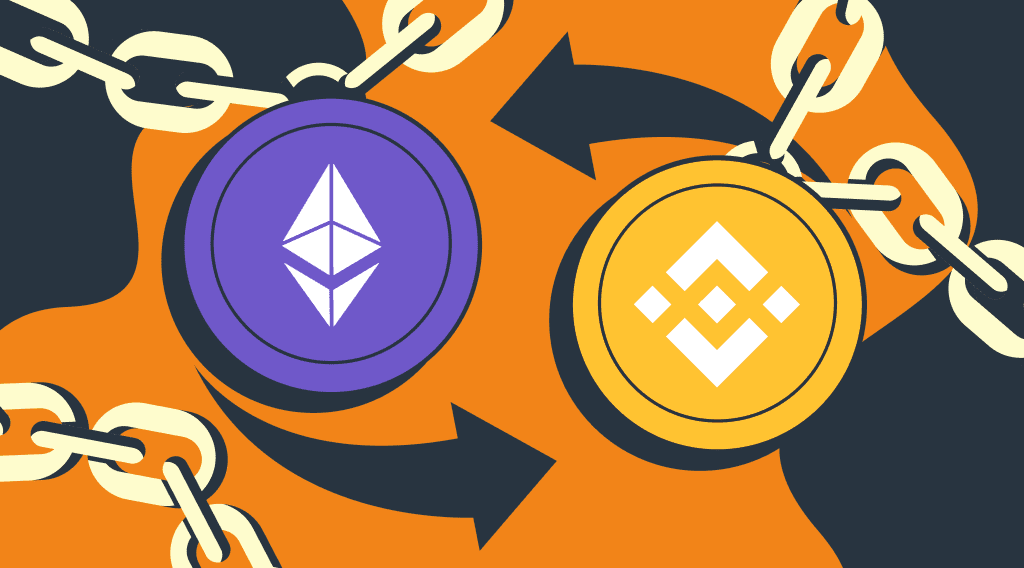 ETH to BNB Bridge: A Simple and Straightforward Process
There are many swappers where you can exchange Ethereum for Binance Coin, and StealthEX is one of the most secure cross-chain exchanges out there. The platform offers users to convert ETH to BNB at no extra charge and with the best floating and fixed rates. Such cross-chain exchanges are always freely available through StealthEX.
How to swap ETH to BNB?
Just follow the guidelines given below. Let's imagine you want to exchange ETH for BNB. To exchange, you need to take a few simple steps.
Firstly, you should choose Ethereum (ETH) in the left drop-down list. Then select Binance Coin (BNB) in the list of coins on the right.
After setting the pair, it is necessary to enter the amount of BNB you want to exchange. Here you will see the estimated amount of BNB you will receive after the exchange.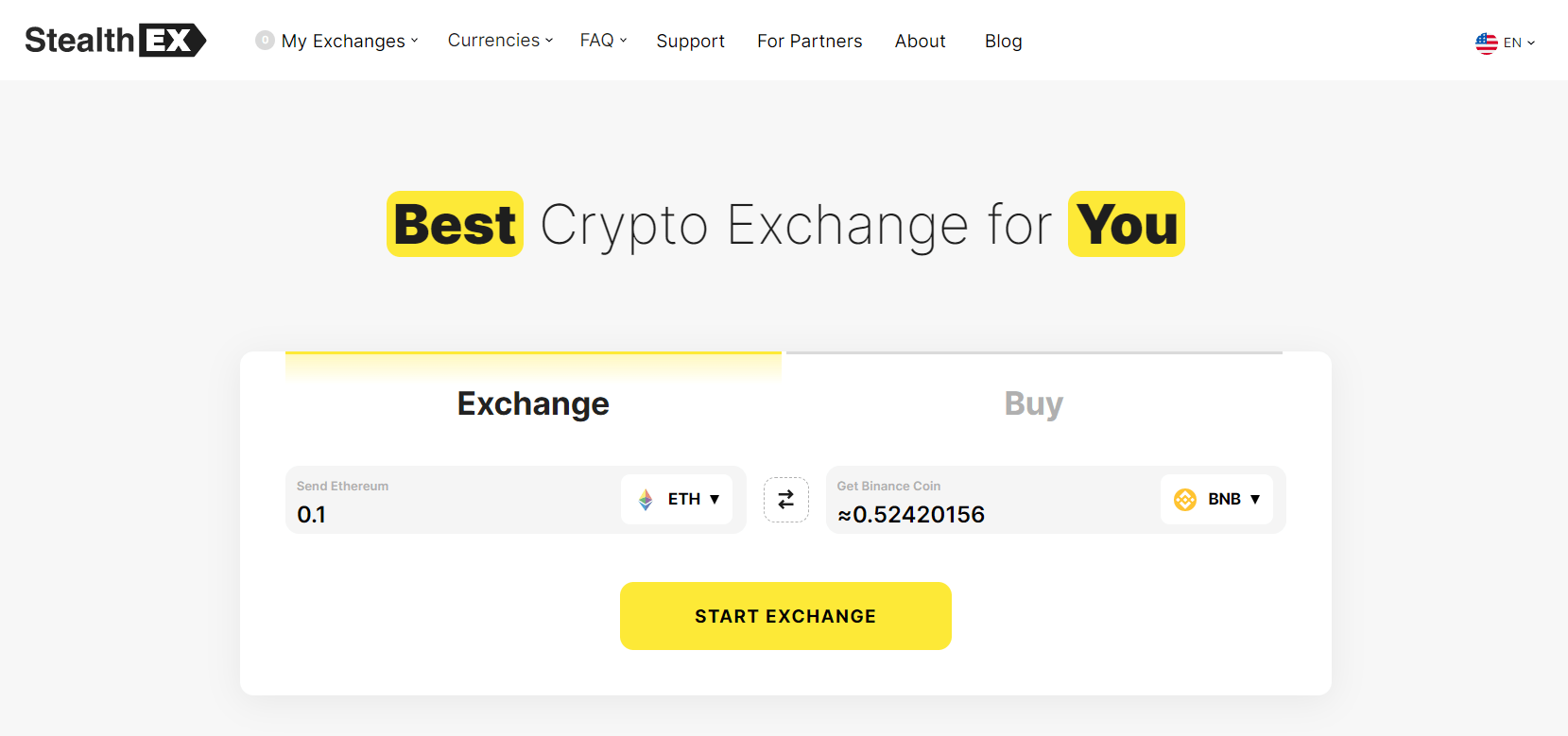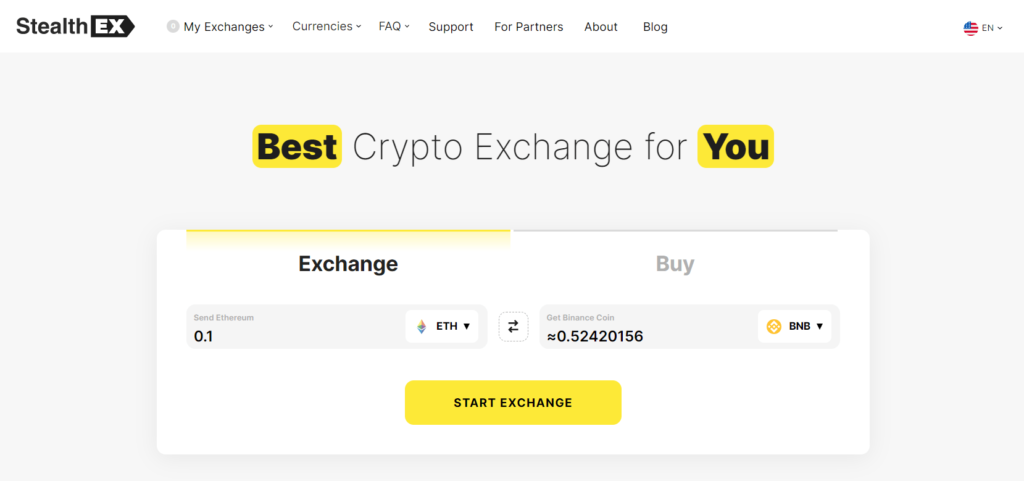 Now, when everything is set, hit the Start Exchange button and you will be taken to the next page.
In the second step, you need to provide the BNB crypto recipient address. The recipient's address must match the crypto you are going to receive. Remember to double check the information entered by you before the exchange as the transaction made by you cannot be cancelled.
As soon as you have carefully checked all the details, you can press the Next button and you will be redirected to the confirmation page.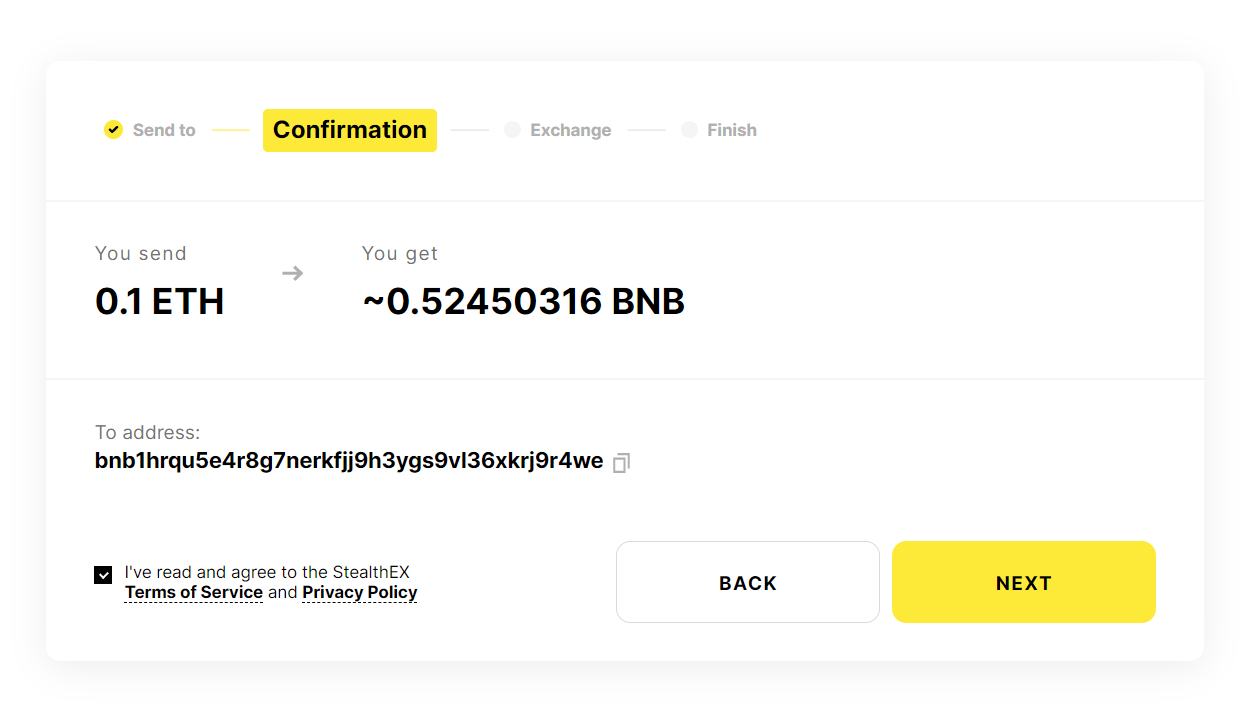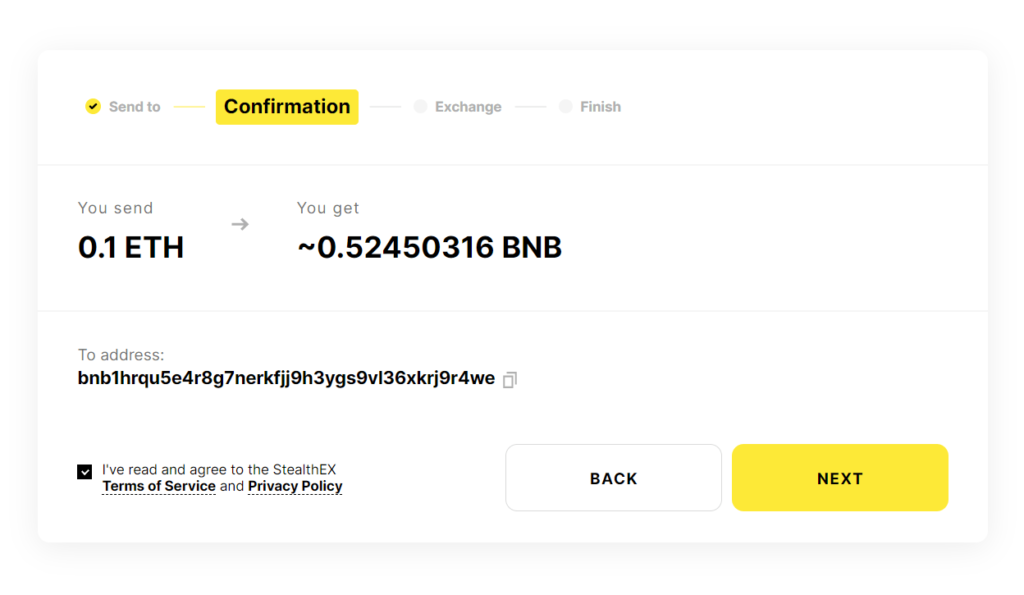 Here you can modify the address provided and the amount of Binance Coins you will receive. Don't forget to read and check the Terms of Use and Privacy Policy box. Without checking the box, you will not be able to continue with the exchange.
On pressing the Next button, you will be redirected to the Exchange page.
First, you will see the address where you need to send your ETH in order to continue with the exchange. StealthEX will also provide you with the Exchange ID. This will allow you to have all the information about swap. It is recommended to save your Exchange ID or link to your Exchange.
exchange positions
After sending Ethereum coins to the address shown, the information on the exchange page will be automatically updated. The exchange page has several conditions that will change at the time of exchange.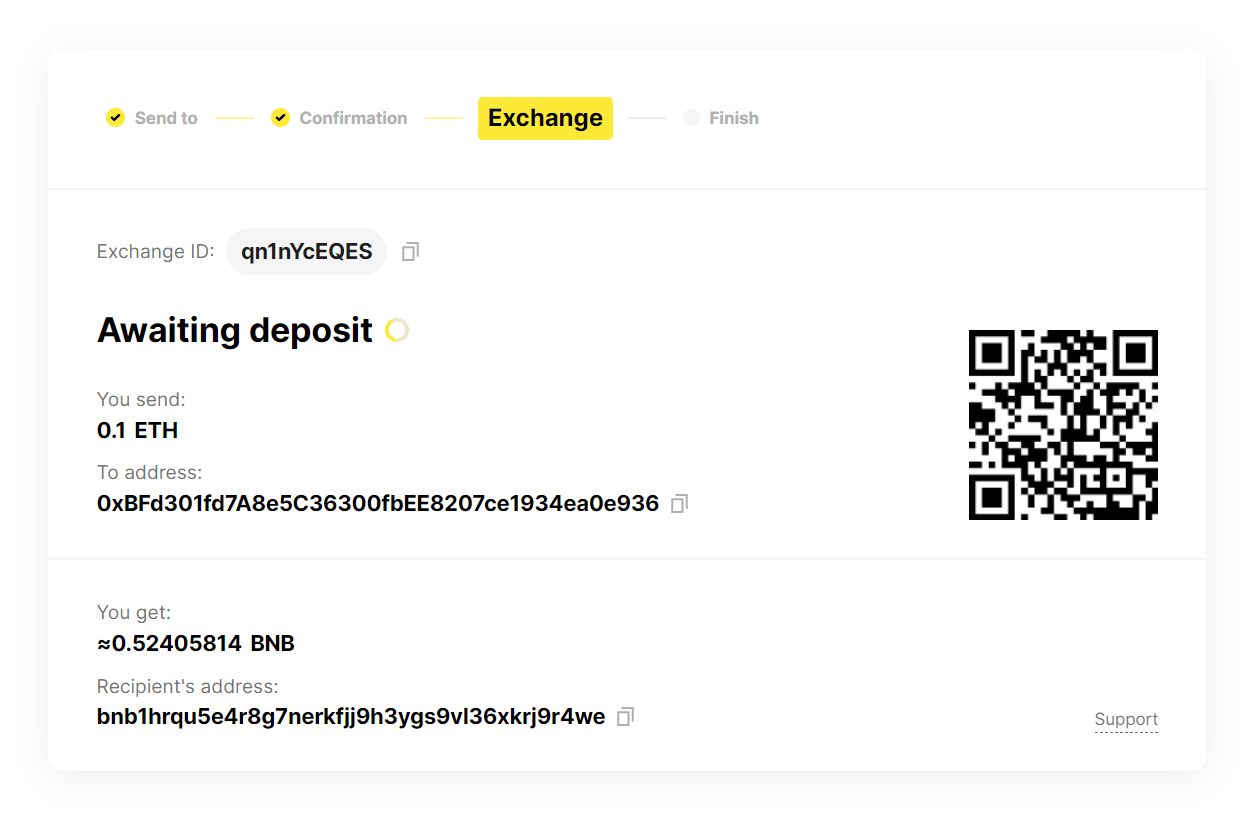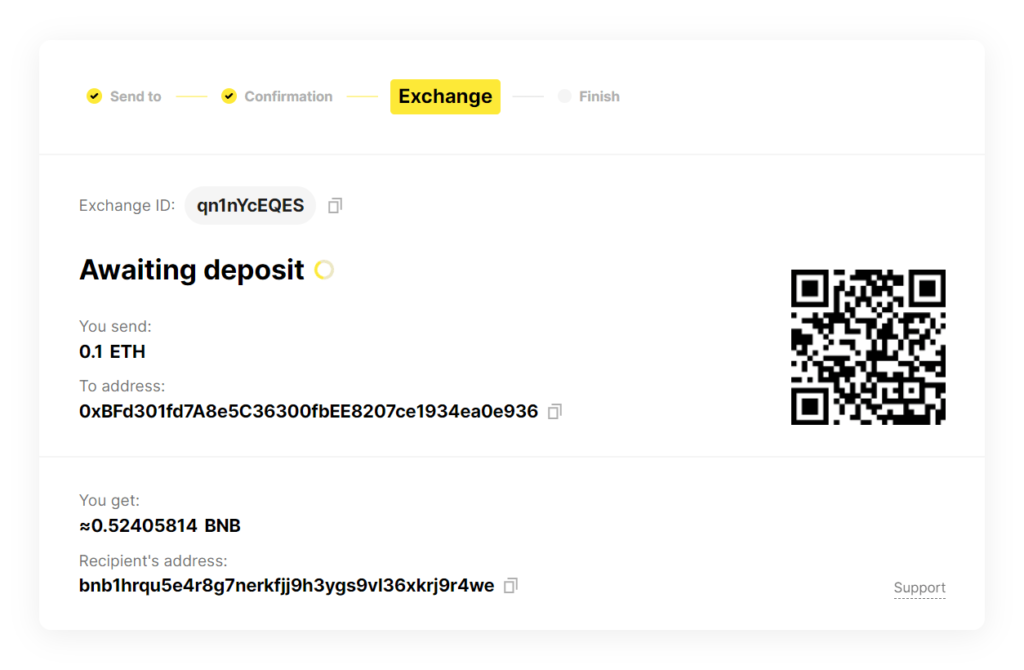 The first status is Awaiting Deposit. The following status is confirming. This means that StealthEX is verifying the transaction you made. The next position is exchanging. During this exchange is being done. Then the status will change to Sending to your wallet. This indicates that there are only a few minutes left to receive your BNB (BEP2) cryptocurrency. closing of exchange
Finally, you will be redirected to the finish page. This shows that the exchange has been done successfully and you will receive the crypto at the address provided. You can also use the output hash shown on this page and check it in the blockchain list of transactions to make sure the BNB coin was sent to your wallet.
From here you can either create a new exchange on StealthEX.io or leave the page and check your Binance Coin wallet to see how fast you receive BNB to your address. Usually, the process is quite fast so you won't have to wait long: ETH-BNB BEP2 swaps are processed within a few minutes. Alternatively, you can swap BNB for ETH or choose any other crypto pair available on the platform.
Keep reading StealthEX's article to learn more about cross-chain swaps.
How do cross-chain swaps work?
Cross-chain swaps use smart contracts to enable the exchange of tokens between two parties on two different blockchains. These smart contracts are powered by a technology called Hash Time Locked Contracts (HTCLs), which lock transactions with unique combinations to ensure verification on both ends. As a rule, exchanging digital assets between different blockchains that do not interact with each other will require a lot of time and effort from the user.
Cross-chain swap is an important blockchain mechanism as it eliminates third-party entities from the token exchange process and facilitates simultaneous multi-blockchain transactions. This is why state-of-the-art cross-chain swappers like the StealthEX crypto exchange are so popular.
Cross-Chain Swap: Benefits
Cross-chain swaps are not limited to trading and exchanges only. Major industries are using the main advantage of this technology to develop trustless and decentralized exchanges that allow individuals to trade on their desired blockchain. All these features together establish a more interoperable, secure, robust and fast blockchain ecosystem where traders get full control of assets as they have the facility to swap tokens directly from their official wallet. Cross-chain swaps offer several advantages, including:
decentralized nature. The world is recognizing the importance of decentralisation. Cross-Chain Swap sets people free by providing a decentralized ecosystem for multi-blockchain exchange. better security. Cross-chain swaps employ HTC smart contracts that ensure enhanced security to users and guarantee refunds if a conflict occurs or the first participant (sender) changes their mind for some reason. In this way, the technology leaves no room for security concerns. Low cost, peer-to-peer transactions. The use of a centralized exchange involves high switching costs. Apart from this, you will also have to complete a lot of formalities like finding a reliable exchange, getting registered, following the terms and conditions, etc. In contrast, cross-chain swaps allow nodes to join a peer-to-peer blockchain network and exchange tokens. It saves time and ensures low cost as no centralized entity controls the protocol. high flexibility. Cross-chain swaps allow higher flexibility by allowing the exchange of all tokens. Users do not need to convert tokens into specific protocol-based tokens, as they are required to do in centralized exchanges.
Cross-chain swaps with StealthEX provide a greater degree of freedom and independence. Basically, the mechanism behind the platform allows users to directly swap different cryptos between the two chains. If you are tired of middlemen and the long process of converting one coin to another, for example, when trying to swap ETH to BNB, then StealthEX should become your main swapper.
Convert ETH to BNB on StealthEX
If you are looking for a cross-chain exchange or want to directly convert ETH to BNB and BNB to ETH, StealthEX is here for you. Our users can buy cryptocurrencies using fiat currencies and we still provide the opportunity to buy cryptocurrencies at fixed rates.

Don't forget to follow us on medium Twitter, Telegram, YouTube, and Publish0x to receive StealthEX.io updates and the latest news about the crypto world. If you need help, drop us a line at [email protected]
Please make sure to always research any cryptocurrency and assess your own risks before investing.
Tags: cross chain cross-chain bridge cross-chain swap ETH to BNB ethereum




Source