Cryptocurrency
MarsDAO Ecosystem Celebrates MDAO Token Listing on Bybit, Bitget, and Gate.io Cryptocurrency Exchanges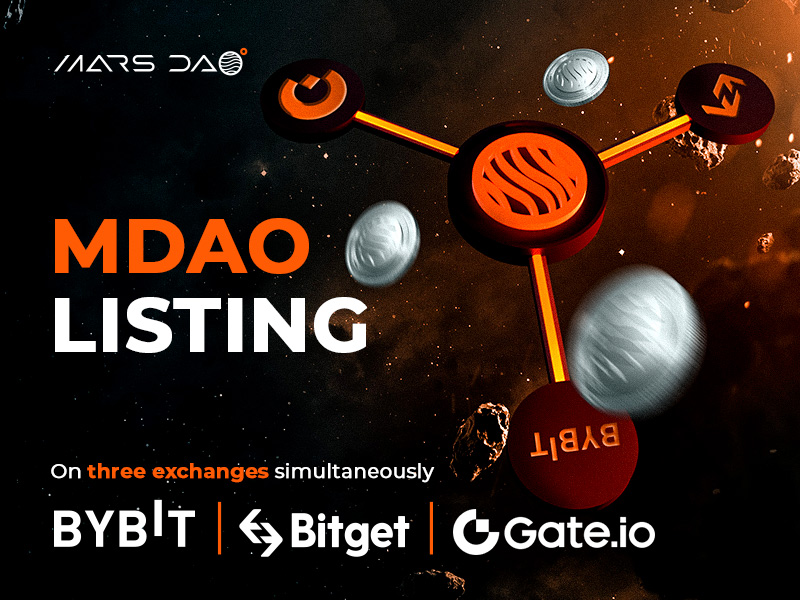 The MarsDAO ecosystem is proud to announce that its native MDAO token has been listed on the Bybit cryptocurrency exchange after a 24-hour online voting period. With around 33 million votes, the MDAO token became the undisputed winner of the vote, setting a new record for the Bybit crypto exchange.
After winning the vote on Bybit, the MDAO token was listed on the Bitget and Gate.io cryptocurrency exchanges with a combined daily trading volume of over $1 million, providing MDAO with significant growth and impact opportunities. MarsDAO is committed to continuing its mission of providing users with the tools and knowledge they need to succeed in the digital asset space.
"We are delighted with the overwhelming response from our community and would like to thank all of them for their unwavering support in bringing the MarsDAO journey to Bybit," said Vladislav Utushkin, founder and visionary behind MarsDAO. This is an important milestone for the MarsDAO ecosystem and a testament to the growing interest in decentralized solutions and the potential of digital assets to revolutionize the financial landscape. This listing is a testament to our accomplishments and I am confident that together we will continue to push our autonomous organization forward and reach even greater heights."
MarsDAO is a community token that provides access to various investment tools in the cryptocurrency market. Based on the principles of Decentralized Autonomous Organizations (DAO), MarsDAO is a community of Web3 users interested in education, infrastructure, and investment products. MarsDAO's mission is to help people navigate the fast-paced and ever-evolving FinTech and blockchain environment and monetize their knowledge while advancing the mass adoption of digital assets.
MDAO is a community utility token that is used across all ecosystem products. The emission of MDAO is limited to 100,000,000 tokens, and the current turnover is 70,599,020 MDAO coins. MDAO tokenomics is based on a deflationary model.
For more information about MarsDAO and the MDAO token, visit the website Web site.


Credit : www.newsbtc.com