Cryptocurrency
Positive Vibes: 18,000 Bitcoin Purchased By Diamond Hands In One Week
Bitcoin has been moving sideways last week after hitting a rejection near $25,000. The cryptocurrency is reacting to macroeconomic uncertainty by pushing its price down, but BTC continues to give long-term buy signals.
At the time of this writing, BTC is trading at $23,500 with a 1% gain in the last 24 hours. Over the previous week, Bitcoin recorded a loss of 5%. Other cryptocurrencies in the top 10 by market capitalization show similar price action, with Cardano (ADA) and Polygon (MATIC) leading the way with losses of 10% and 16%, respectively.
Long-term bitcoin holders show relentless accumulation
According to report from Bitfinex Alpha, the recent decline in the price of Bitcoin has led to a sharp increase in savings from long-term holders. These investors took advantage of the BTC price decline to accumulate massive amounts of the cryptocurrency.
The report claims that long-term Bitcoin holders bought more than 18,000 BTC last week. Bitfinex Alpha claims that these market dynamics suggest that the crypto market is showing signs of the end of its bear cycle.
Whenever long-term holders of BTC appear and accumulate, the price of bitcoin tends to rise. The chart below shows that the 2021 bull market was preceded by a surge in the supply of long-term holders, the amount of bitcoin in the hands of long-term investors.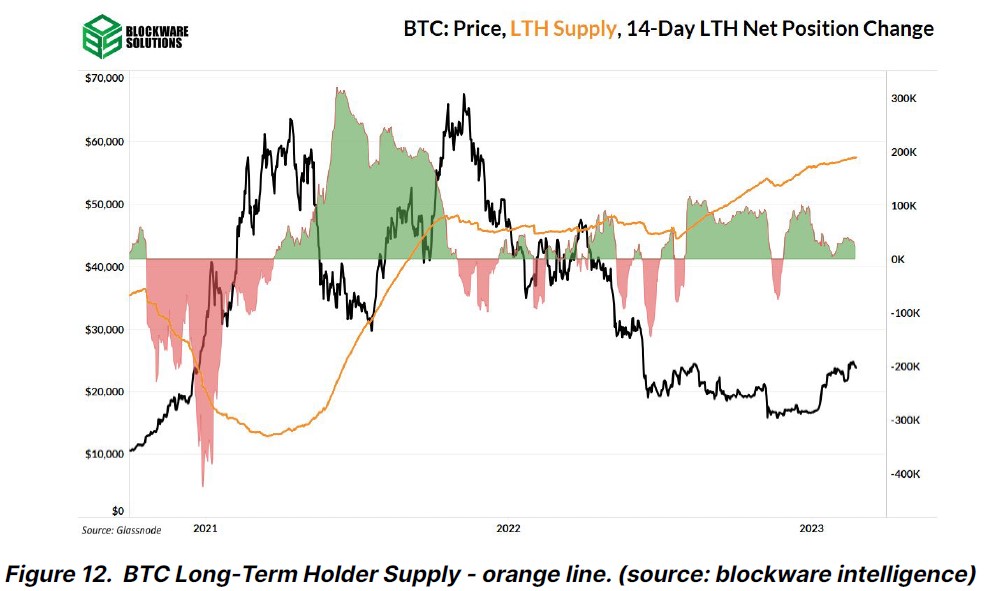 Unlike speculators, these investors hold crypto for a higher time frame, reducing the amount of BTC available for sale. Thus, Bitcoin moves in tandem with this metric. The report claims:
The supply of long-term holders continues to grow. Long-term hodlers, which make up a large part of the BTC supply, are an important characteristic of the bear market bottom on the network and are a positive signal coming amid a 40% price increase since the beginning of this year.
In addition to the increase in the number of long-term holders of BTC, the report notes an influx of funds into whale wallets since last Friday, February 25th. These inflows hint at the confidence of large investors in the price of BTC. The report concluded:
Historically, whales have continued to accumulate even with 100 percent moves (such as when the price rose from $3k-$6k in 2019) at the end of a bear market; this was the case during the bear market rally in 2019 and the sharp crash of 2020, when the pandemic led to the collapse of risky assets.


Credit : www.newsbtc.com