Blockchain
The smartest man in the room has a warning about bitcoin prices
Mike Wilson of Morgan Stanley is widely regarded as one of the best analysts on Wall Street.
He warned that the S&P 500 is poised for another 21% drop.
If this view is valid, we could see a drop in BTC price as well.
Bitcoin price dropped to around $24,000 as gloom descended on the stock and cryptocurrency industry. After rising as high as $25,373 during the weekend, BTC/USD price is struggling to re-test it this week. And now, one of the best-selling analysts on Wall Street has issued a scathing warning about the market.
Morgan Stanley's Wilson Warning
In a note Tuesday, Mike Wilson, chief equity strategist at Morgan Stanley, warned that the S&P 500 could drop another 21%. If this happens, it means that the index could drop from the current $4,000 to around $3,140.
Wilson noted two main things that could push the S&P 500 down a lot in the near term. First, there is a reset of expectations regarding the Federal Reserve. The reasoning is that investors were expecting the Fed to start to pivot soon.
However, the reality is that recent figures point to a higher hike this year. Inflation remains extremely high while the unemployment rate has fallen to a multi-decade low of 3.4%.
Second, corporate earnings have been a bit weak. Companies such as Goldman Sachs and Home Depot posted relatively weak financial results. S&P 500 constituent companies reported a -4.7% compounded growth for the quarter, the worst since 2020, according to FactSet.
Furthermore, with bond yields turning highly inverted, there is a possibility that the US will go through a major recession. Stocks tend to underperform in such times. Mike Wilson isn't the only analyst worried about stocks. In a widely read report, Jeremy Grantham warned that the S&P 500 could drop to around $3,200.
Implications for bitcoin prices
Mike Wilson did not mention bitcoin prices in his note. He also did not mention cryptocurrencies in general. However, the fact remains that if his warning materializes, it will have serious implications for BTC and other cryptocurrencies.
Bitcoin and stocks have had a close correlation over the past few months. A closer look at the data reveals that BTC has a correlation coefficient of 0.91 with the S&P 500. A correlation of 1 or close to 1 is usually a sign that two assets are closely related.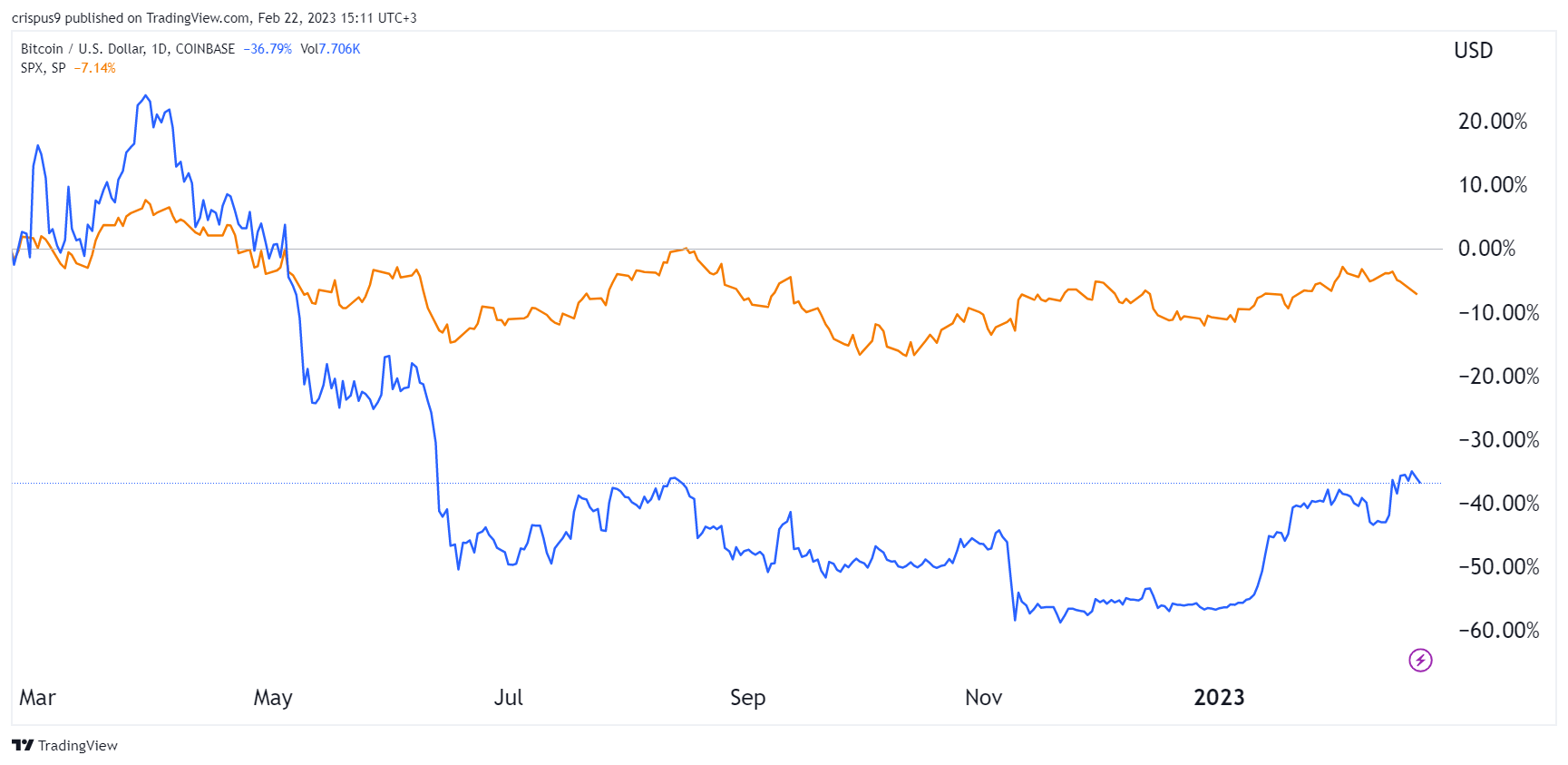 Therefore, if the S&P 500 drops by 20%, there is a high probability that the price of bitcoin will drop even lower. Thus, although it is too early to predict whether Mike Wilson will be correct, it makes sense to start taking profits.
Share this articleCategoriesTags



Source